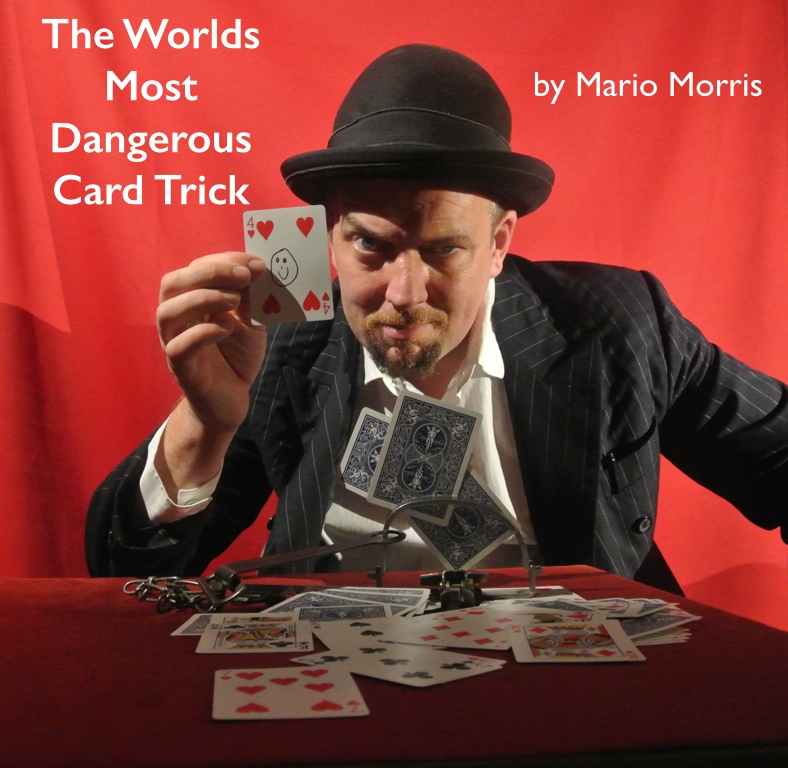 EARLY BIRD PRICE £175 (full price £225)
Thursday 7 November 2019
Cardiff – UK
Training Day with Mario Morris
"The Worlds Most Dangerous Card Trick" is taking the Magic World By storm. The simple premise of a signed card lost in a deck then placed into the jaws of a real animal trap. The Magician is able to locate the card and pluck it out from the pack in lighting speed before the animal trap snaps shut. This simple but very effective presentation has audiences spellbound often half covering their eyes, shrieking then sighs of relief can be heard from the audience as the effect is performed.
In this one day training, you will receive a FREE Worlds Most Dangerous Card Trick, hands-on training, top tips on how to build suspense.  You will learn how to perform this effect confidently You will learn the full act with the blindfold bonus and lots of tips and ideas from international performer and inventor of the effect – Mario Morris.
High impact magic effect that packs small and plays big!
A fantastic cliff hanger
A great closer to a show
Dynamic, Easy and Effective!
A reputation maker. (You can perform this as a PR stunt or as a closer to your show)
Very easy to do. (So you can concentrate on making a great performance)
Full of suspense (Your audience will remember your show)
Very Funny (Great comedy moments are naturally created)
"Mario Morris Worlds Most Dangerous Card Trick is one of the MOST spellbinding, suspense-filled routines in magic. I know Ive experienced it MANY times! Few routines even approach the energy of this feature act."
Your day will start at 10 a.m. and finish at 5 p.m.
BONUS – Price Includes
Mario

 Morris show time
Lectures – outstanding finales-  pack small play big
How to make money making finale's
Workshops – step by step introduction
How to get your audience to clap and cheer every show
And a Free Worlds Most Dangerous Card Trick
(Do get in touch if you have one of Mario's traps and would like to attend)
"Absolute pleasure to see Mario Morris's Most Dangerous Card Trick being performed –  incorporating an animal trap and a pack of cards and a lot of danger.  Its really cool, its really exciting and its really fun.  It will have people on the edge of their seats.  So check it out! "
What Other Magicians Are Saying
"The audience was spellbound by The Worlds Most Dangerous Card Trick!  Very visual, great build-up and what a finale!  I'd recommend this to anyone!"
"I've done The Worlds Most Dangerous Card Trick about seven time's today on a magic street festival and the trick is great!  Everybody loves it and the build up tension. The break halfway and building it up again, for some it's killing but they have to watch (hahaha)….. so thanks again!"
Full Days Training
£
225 EARLY BIRD ONLY 175!!
/

person
You will receive on the day for FREE

A World's Most Dangerous Card Trick

A Blindfold

Video training access download

A Certificate for rights to perform Mario's effect as he does it

Follow up free Skype session
Frequently Asked Questions
I already own a Worlds Most Dangerous Card Trick - can I still attend?
Yes! You will still get a lot out of the training day – get in touch with us direct.  Get in touch with us at info@schoolofbusking.com \
Where will the training take place?
The training will happen in Cardiff.
What if I something happens and I can't make it?
Don't worry!  Your deposit will go towards our next training day that is relevant for you – so you won't miss out!
Book your place with a deposit here
If you have any questions, feel free to drop us a line anytime.