Secure your space with a £75 deposit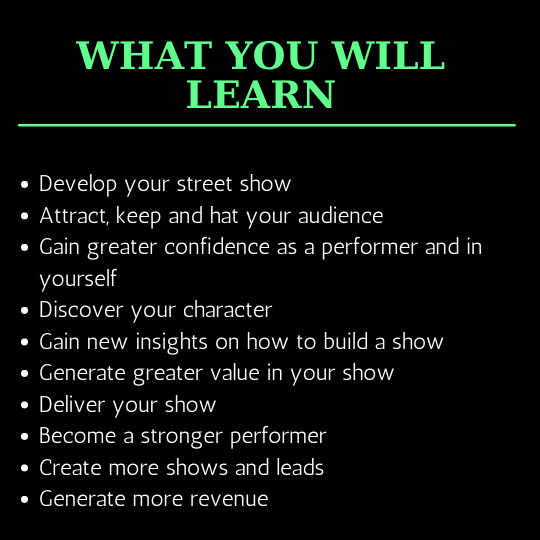 "Working with Mario was a great pleasure.  He has years of experience, and, more importantly, knows how to communicate this experience to students of the art.  Patience and professionalism combine to create an excellent learning environment.  We look forward to continuing our classes and including Mario in our programs."    
Do YOU have a dream to perform or wish you could develop the skills and confidence to take you to the next level, or do you already have the skills and now are ready to receive mentoring and feedback to develop your show further?
The School of Busking Focus is a gateway for stepping into your aims and goals whilst living the life you want to live. Whether you are starting out or have years of experience, the School of Busking has helped magicians, entertainers, street, stage and children entertainers all over the world to step into the fullness of their dreams whilst doing what they love.
Build your own show into your dream show whilst living the life you want to live. The School of Busking LIVE weekend course will get YOU focused. .
What Do We Do:
We provide a safe and fun learning environment for performers. We create a space were you can grow and cultivate your own show and grow your confidence.
Who Is If For?
Beginners, intermediate or advanced students of performing art, Street Entertainers, Magicians, Circus Performers-  the list is up to you – contact us if you're not sure.
How do we do it?
We draw from a wealth of experience of performing from Street Theatre, Cabaret and Stage performances providing tips and first class insights, through theory, interactive workshops, breakout groups and practical opportunities to perform that you will receive invaluable feedback on. 
3 day program - open here
Day 1 
10.30    Arrival and Registration
11.00    Orientation and opening circle
12.00    Mario intro, Finales and Hat Lines Presentation,
1.00     Lunch
2.00     Finales and Hat Lines Break Out Group 2
2.30     MM Presentation  – How to attract an audience and  Break out Group
4.00     Tea Break
4.15     Bonus Presentation
5.00     End of Day 1
7.00    Evening to yourself or get together with other students and share magic and stories!
Day 2 
10.30
Opening, feedback any question
11.00    MM Presentation – the middle of your show and keeping your audience and Break Out Group
12.30    Lunch
1.30     MM Presentation – Putting it together and Break out Group
3.00    Break and MM  presentation on Dress Rehearsal
3.30    Dress rehearsal and final practice
5.00    End of Day 2
7.00    Optional – Group dinner and share magic (if you have friends, family or partners with you they are welcome to join us in the evening)
Day 3 
10.30        Q&A, Hat Draw, get to pitch!
12.00       Show Time – shows to the public
3.30
Head back for feedback
4.45        Closing circle, photos,
5.00 Exchange
contacts and Farewell till next time.
 (subject to small changes) 
The founder of the School of Busking, trainer and coach Mario Morris together with his team, will lead you through a captivating experience consisting of lectures, workshops and performing.  The course is limited to 10 students.
Accommodation 
There is an abundance of Hotels and bed and breakfast as well as a camping option in Llandudno. Our main training area will be close to Mostyn Street.
You may want share a room to share costs – get in touch if you want us to connect you with other students. 
Accommodation and food – of which there are numerous options in Llandudno, are the responsibility of the student during the course.
Travel to Llandudno 
The nearest Airports are Liverpool and Manchester.
Trains and buses from main cities will bring you into the heart of Llandudno 
We are at hand to help if you need any advice.
Contact
School of Busking
mario@mariomorris.co.u or call Veronica – Mobile/Whatsapp 0034 711 04 03 69
Mario Morris is a world-renowned outdoor, street, stage and theatre performer and comedy magician.
He has over 30 years of performance experience. In 2006 Mario founded the School of Busking in the UK. He also specialises in coaching, mentoring and empowering performers.
He is a guest performer, teacher and coach of the McBride in Magic & Mystery School in Las Vegas, since 2010 .
Committed to his own self-development to bring you his best, he graduated from Oxford Brookes University in 2017 with a degree in coaching and mentoring.
The 2023 School of Busking weekend course is in Llandudno, North Wales.
After 2022's hugely successful and fun LIVE course, we are delighted to be working closely with Llandudno's very own Magic Bar Live again!
In addition to a weekend of training and street performing you will have free bonus evenings of magic shows and entertainment. Magic Bar Live is located at the Alexandra Hotel, which also serves great food and a full magic bar!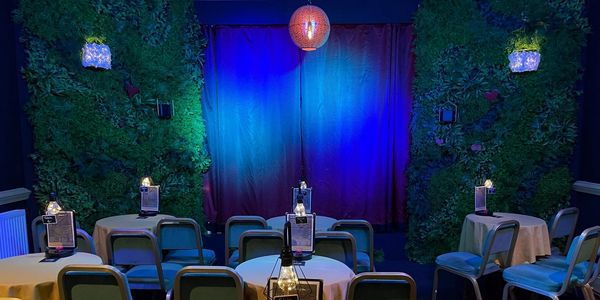 The School of Busking has full use of a hall a short walk from Magic Bar Live. The hall is perfect for the bulk of your training and break out groups and giving each attendee plenty of room to practice and receive valuable feedback
Llandudno, North Wales premier seaside resort, town and community in Conwy County Borough, North Wales., a stunning Victorian seaside resort.
I can honestly say I would not be anywhere near the performer I am today if I hadn't attended Mario's School…"
"I found the material and the style of delivery to be both entertaining and probably the most useful educational experience I have ever had"
"The highlight of the Focus Training with Mario is the way that I now feel more focused, have more clarity and totally motivated  to get to the next stage in my life."
Mario and Veronica really helped me with some new ideas and things that I can change around and really improve it and bring my show to another level."
"The school opened up a lot of new opportunities for me. So much so that I'm back again this year, and looking forward to it. If it's half as good as last year, it'll be GREAT!  Entertaining in the street for cash requires a different set of skills from other areas of magic, and these skills really help all other areas of performing magic, or even pitching.  Can't believe there are so many people out there passing up the chance to attend – can't think where else you'd get so much GREAT info in such a short time. Intensive – sure – but – GREAT! "
"After the first night of 'theory' my head was overflowing with all the information and ideas presented to us. On the Saturday we began to put the ideas of building a crowd, entertaining a crowd and passing the hat together into shows, under Mario's guidance. On the Saturday I went from having no show at all to having a complete show (though it still needs ALOT of work).
On the Sunday, after a run through of the performances, we headed out onto the streets to perform. It was such a buzz! And it is thanks to Mario that I got out there and did it, not sure that I ever would without his help (thanks Mario)."
"I would recommend the school to anyone looking to further their knowledge of street performance. Once we had soaked up all the knowledge we were giving the chance to workshop our own routines and material and get feedback from the tutors. This process was invaluable because you got the input from three top street performers each of whom have their own style and thoughts" 
Darren Campbell
"…..Mario and Veronica who organised the course, have done so well – they have put so much work and passion into the weekend and I have enjoyed it immensely"