A LITTLE BIT ABOUT JAMES JAMES
"How did you get started working the streets", a question James is asked on a daily basis. "When I sacrificed a goat on the alter of who gives a damn"… Is his stock reply.
Learning the cups and street from Gazzo, James has traveled the world, pulling oranges from cups and melons from hats, for over 12 years.
Inspired by another of the streets' royalty, Nick Nickolas, and shared pitches with Charlie Caper, James has carved a life out of entertaining unsuspecting strangers.
One would think its not such a secure living.,
James knows otherwise.
"Get a real job", some would say, "Why", he replies, "hen I find I have a real life."
James lives in Australia, and drinks beer.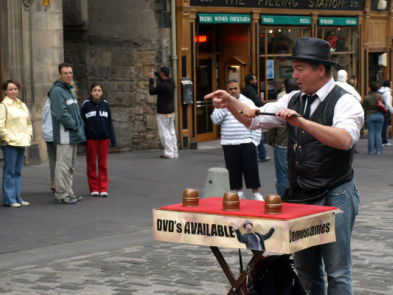 VOLUNTEERS AND THE GOLDEN CHILD
– VIDEO 8
No this is not some review of and Eddie Murphy film..although it was really bad
What other form of entertainment uses volunteers in the way that magicians do.
What other form of magic performance uses volunteers in the way that street performing magicians do.
ATTRACTING A CROWD – VIDEO 7
A segment from McBrideMagicTV.  Mario talks about attracting a crowd in this video.
APPLAUSE V LAUGHTER – VIDEO 7
As entertainers, and magicians, we want validation from an audience, be that in the form of applause, or laughter.
We want to know that our audience is enjoying our performance.
"Applause."
We want to know that our audience is with us, and realize that what they are seeing is pretty damn amazing.So how does an audience usually show appreciation at the end of an effect, or routine, whilst on stage
TRICKS V ROUTINE – VIDEO 6
Tricks V Routines. Let's first quantify what each is, and then talk about what would be the way to go and why.
TRICK – A cunning or skillful act or scheme intended to deceive or outwit someone.
"a one shot event."
That's the bare bones, and to further examine, it's a one shot event. A Wham ! Bam! Wow!.. And that's it. Read more here
THE BUILD AND BEYOND – VIDEO 5
Just like a stage show, a close up performance, or a cabaret set, a street show has a formula.
       "stop, stay, watch, pay"
A well known synopsis, amongst those of us who do derive an income from the street is this…'Make the STOP, make the STAY, make them WATCH, then make them PAY'.
That's it in a nutshell.  Read more Here
If you are finding benefit here, let us know in the comments below,
START SMALL GROW BIG – VIDEO 4
I'm sure you have seen HUGE street shows (Magicians as well as Jugglers), where there are upwards of 200 people, all enjoying a performance, all 'nicely' managed in an orderly semi circle. You may look at this and think…" I want to do that". You may also think that all of these people turned up en masse and stood on an imaginary line that circled the performer in the middle.
If you thought that, you would be way off track. It all starts off small. That is if you are a table top magician. So how can you engineer a small group of people to become a large audience., and there is a BIG difference. Not just in the size, but in the bringing together of a group of disparate strangers, and mould them into an audience.  Read More
BUSKING AND BEYOND – VIDEO 3
Being able to take to the streets, find a patch of concrete, generate an audience, and earn a good income, is all good and well.
But what about when you're like me. Old and grey, no insurance, or superannuation, and nothing saved. It can be at times like these, one would get that "Oh Sh*t" moment.
But there is a way around it, and can greatly enhance your life and bottom financials. It takes work and dedication though.
ARE ALL PITCHES CREATED EQUAL – VIDEO 2
The very short answer is NO.
As you grow in performing on the streets, and avail yourself of travel. Travelling to wild flung places. You will find that the energy given off on one spot, will be different from that of another
STREET FORMULA – BUILD AND CREATE YOUR OWN STREET SHOW – VIDEO 1
Hi, have you ever watched a street busking show and think 'wow, wish I could do that'. Well, that's what you're here to learn. It's not a matter of just throwing some routines together and taking to the Streets. To make it happen there is 'design'. We call it 'the formula'
My names james james 'the tartan trickster' and this short video is all about using formula to create your very own busking show.